Price : Free
File size: 1.35 MB
Download : http://www.highdots.com/css-tab-designer/
Understanding CSS may take times for some of people. Especially if it is dealing with CSS tab buttons for the website. CSS Tab Designer will make that easy for you. Because you don't need to be a master of CSS script to implement amazing horizontal menus (tabs) or vertical menus design in your website.
I have known this tool since two years back and still rely on it quite sometimes. The tabs in my Graphic Identity blog are using Centered Sliding Doors tab style. I modified their grey background into white, to blend with my main column background color.
There are 11 designers who have contributed their CSS tab design in this software. All tabs (60+ different designs/colors supported) have been designed beautifully and easy to modify using CSS Tab Designer. The code generated for these tabs is strict xhtml compliant code.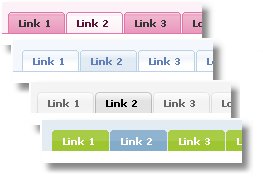 How to create tabs in CSS Tab Designer?
You will see three columns in CSS Tab Designer 2.0 interface.
Bigger View
Read More