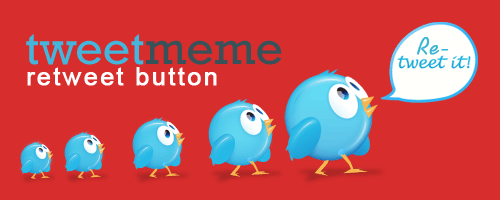 The thumbnail for this post is using Birdies~Cute Free Twitter Icons
Just few weeks ago, I added a
TweetMeme
Button to Graphic Identity Blog post. As you know already, that
Twitter
has became a big community to exchange links about latest news, pictures, blip of songs, and of course a blog post. These exchange is made happened by some ReTweet actions chain.
If you have a particular blog and you are familiar enough with this ReTweet term (or you can make it short as "RT"), then you may want to know about how to add a TweetMeme ReTweet Button to your blog post. It will track the number of RTs made for each blog post.
Actually the instruction to install the TweetMeme Button is clearly stated on
Tweetmeme Help page
. But I just want to let you know that I've combined several codes all together, so you will know that it is a fully customized TweetMeme RT button.
Read More