It was minutes of relax-reading for me as I read my good friend's interview post by the Headup team:
Ruhani Rabin, Malaysia's man-to-know online
. It's a great interview and also interesting because from that point I've came to know about a new widget developed by
Headup
.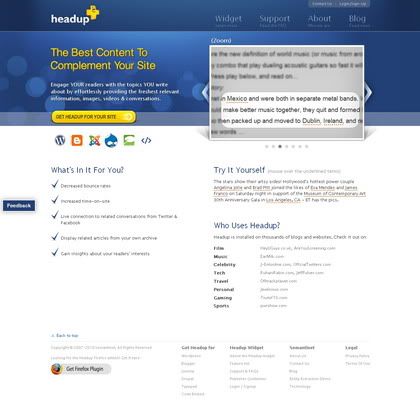 Headup is a blog widget that will automatically marks the topics you mention in your blog content with dotted underlined (which the color can be customized easily), and enriches them with dynamic content from popular sites like Twitter, Youtube, Flickr, etc. The complementary content from Headup overlay widget is displayed within tabs when your mouse over the underlined marks.
Headup Widget gives your audience immediate access to dynamic, contextual and social content complementing your own. It supports various CMS (Wordpress, Blogger, Joomla, Drupal and Typepad) and just quick embed Headup in your site's HTML.
Read More