David Airey
, a graphic designer from Northern Ireland, is holding an anniversary prize giveaway. Started on September 1st, 2007, there's more than $4,000 worth in free prizes! :) You can achieve the maximum number of draw entries and chances to win are open wide.
Talking about Blog Designing? Check out the list of Design and Blog Review Prizes from Top Designer and Excellent Blog Reviewer Sponsors. They will contribute their time and profesional skills to design and to review the lucky winner's Blog.
Those are just some mouth watering prizes! I haven't mentioned the
SEO free consultation and lots of Bonus prizes
. I hope that you won't leave these prizes on the table after reading my blog contest postie!!!
Feel free to
grab this graphic below
to be put on your own blog and start your entry right away.
Mark the date and hurry up because all entries must be received by David on
Wednesday, September 26th 2007
.
Find out how to enter by reading the details on
David's graphic design blog
.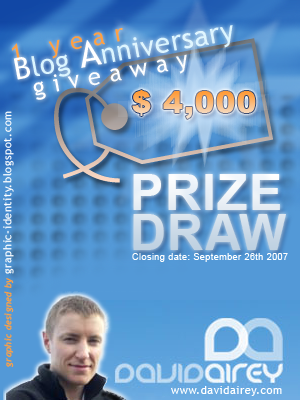 Grab image!