Today I'm going to show you how to create vector photoshop brush. You have probably know, that you can define anykind of graphic image as photoshop brush. If you want to create a specific graphic object with your own creativity... Why don't you start it by creating a vector graphic using Adobe Illustrator? My photoshop brush set collections set are done primarilly by Illustrator. Why? It is simply because Illustrator has a lot better tools to draw a graphic object from scratch than Photoshop. This kind of graphic that is made in Illustrator, will be known as vector graphic. Lets begin the tutorial now!
Step 1 - Draw an image vector using Illustrator
Use black foreground and white background when you start. This is important to have sharp contrast when you are going to define your brush set in Photoshop.
Resize the vector graphic using Scale Tool (s) if you want to set the brush set in certain resolution.
Step 2 - Saving the file as EPS format
After you are finished editing your vector graphic in Illustrator, save the file as EPS format, then open it in Photoshop.
As you can see, by default there your EPS file will show no background because Photoshop only capture the black shiluette of your graphcis and the white background will be converted as transparent.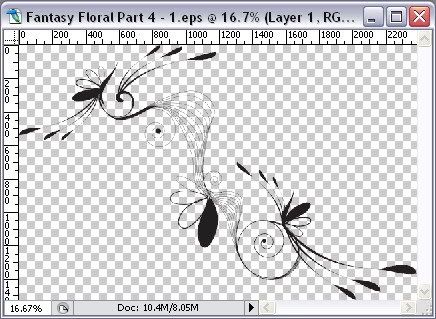 Step 3 - Defining Brush Preset
In the Photoshop menu, go to the menu
Edit > Define Brush Preset
, and name your brush as your wish. Below the thumbnail view of your brush, you can see its resolution.

If you want to be sure that your Photoshop brush has already listed in the set picker, just find to the Photoshop brush option and click the little arrow shown below:

Step 4 - Saving the Brush Set
In the Photoshop menu, go to the menu
Edit > Preset Manager
. On the Preset Manager dialogue box, select "Brushes" Preset Type and choose the brush you want to save. If you want to select multiple brushes, just hold shift key and click the brush thumbnail inside the preset box one by one. Push the "Save Set" button, and you will have the brush set saved as .ABR file.
Voilà! there you go! you are now having a vector photoshop brush now and it is ready to use :D
Related Post: